Costa Sunglass Repair
Costas are built by hand and backed for life, and if you have a manufacturing defect, the folks in our repair shop will fix them for a warranty processing fee of $11.95 to get you back on the water as soon as possible. Or, if you damage a pair on one of your great adventures, we can help you with that too.
Here's how to get yours fixed and get back on the water:
Complete a profile on our website.
Fill out the online repair form.
Print the provided shipping label and send us your Costas.
We will inspect them and we'll give you options for getting them fixed.
Notice — International Customers
As demands for international services rise, repair hubs will be created to provide shipping and cost convenience to international consumers. Please use one of the forms below according to your respected territories: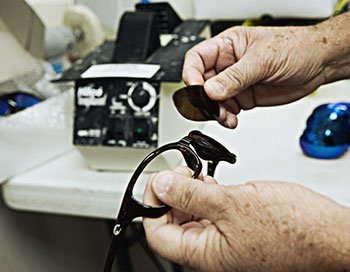 Lifetime Warranty
Because we monitor the quality of every pair of sunglasses we build, we back them with a lifetime warranty.
If a pair of Costas needs to be fixed, they get sent back to the shop where they were made and the experts who built them will bring them back to 'like-new' standards.

Sign into your account
Don't have an account?
No problem, you can still return your glasses no matter where you purchased them.